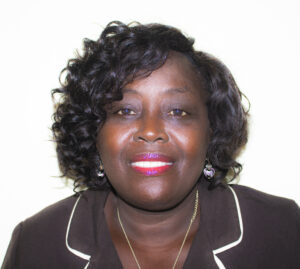 Mrs. Gifty Akosua Baka is the Director of Development and Social Services. She is a native of Peki Afeviwofe, in the Volta Region and was born on 16th July, 1961.
Mrs. Baka is a Social Worker and Teacher by profession and has during the last 12 years been a development sector practitioner. As a member of diverse national and international social development networks, she has participated on many social development platforms and fora in Ghana, Africa, USA, Canada and Europe. Before her current appointment with the Church, Mrs. Baka was the Country Director of the Christian Children's Fund of Canada (CCFC) – Ghana Country Office, Executive Director of the United Way Ghana, Executive Director of Society for Women and AIDS in Africa (SWAA) International, Dakar Senegal and the Project Manager of ActionAid Ghana. She was also a Lecturer of Social Work in the University of Ghana, Legon.
She holds a Master of Social Work degree with specialization in Community Development and Women Empowerment from the University of Nottingham, UK and a Bachelor of Arts in Social Work with Sociology from the University of Ghana. In addition, she holds an International Diploma in Human Resource Management from the University of Cambridge, UK and a Diploma in Financial Management from the Institute of Commercial Management, Bournemouth, UK. She is a Ford Foundation Fellow and a member of the International Ford Foundation Programme Alumni Association of Ghana, a professional network of champions of social justice advocacy in Ghana.
Mrs. Baka, is member of the Global Evangelical Church, a Presbyter and until recently, a Session member of the Teshie Victory Chapel, Accra. She was instrumental in establishing the English session of the Victory Chapel Children's Service in 1993 and has remained one of the dynamic teachers of the Children's Ministry to date. Mrs. Baka serves as a resource person for Women's Bible Class, Women's Ministry and Youth Ministry programmes. She served diligently as a member of the Education Committee, Counseling Committee and Children's Ministry Committee in her local congregation. She was a trainer of church counselors and also facilitated other training sessions for children service teachers.
While working in the Northern Region of Ghana, Mrs. Baka served as visiting Children's Ministry teacher in Global Evangelical Church in Bimbilla and Tamale. She also supports the Peki Blengo Children's Ministry any time she visits her hometown.
She is married to Mr. Evans Kwaku Baka, a Presbyter, a Session member, and a 'Friend of Children' of the Teshie Global Evangelical Church. Mr. Kwaku Baka is a journalist by profession and currently the dean of the Faculty of Communication Science, Jayee University College, Accra. Her marriage is blessed with three children: Dzigbordi, Xorse and Seyram.